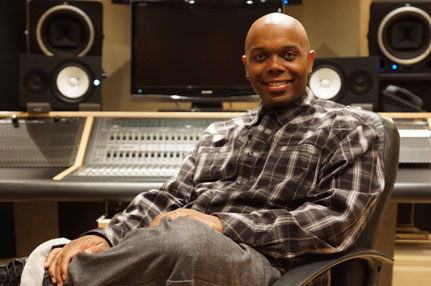 Vocal coach, singer, songwriter, vocal producer and artist developer, Robert "RAab" Stevenson has worked with some of the most famous voices and producers heard on pop radio today. Among them are Justin Timberlake, Pharrell Williams, Rihanna, Kelly Clarkson, The Dave Matthews Band, Zac Brown Band, Ne-Yo, Lumineers lead singer, Phoenix lead singer, Taylor Swift, Alicia Keys, Lionel Richie, Kelly Rowland, Lady Antebellum, 50 Cent, Jennifer Hudson and many others.


RAab started working for Justin Timberlake in 2002 and is still presently working for him. RAab toured with Justin Timberlake on his 2002 - 2004 "Justified/Stripped /I'm Lovin it" world tour, as a background vocalist, as well as Justin's 2006 -2007 "Future sex, love show" world tour as lead background vocalist and background vocal arranger, as well as tour vocal coach. 



RAab was the lead background vocalist and background vocal arranger, as well as vocal coach at Justin Timberlake's "Justin and friends" concert that concluded Justin's "Shriner's Golf Tournament" in Las Vegas each year from 2008 to 2010. The artists that RAab had the opportunity to perform with and arrange background vocals for on these performances over three of the events were: Rihanna, Will i am, Adam Levine of Maroon 5, Leona Lewis, Boyz ii Men, Lionel Richie, 50 Cent, Alicia Keys, Taylor Swift, TLC, Snoop Dogg, Ciara, Jay Sean, Timbaland, Salt-n-Pepa, Lady Antebellum, Diddy Dirty Money, Christina Aguilera and T-Pain.



RAab is currently vocal coaching Justin Timberlake, preparing him for concerts and TV show performances. He vocal coached him and his background singers for the 2013 "Legends of the Summer" tour and arranged background vocals for Justin and Jay-Z. He also vocal coached Justin and his background singers for the 2013/2014 "20/20 Experience World Tour", as well as arranged background vocals.

RAab vocal coaches Pharrell Williams and has vocal coached him for many performances including 2014 "Coachella" and television appearances, such as "The Oscars", "The Grammys", "MTV VMA's", "The Voice", "Good Morning America" "NBA All Star Weekend" , "The Today Show", "Jimmy Kimmel Live", "The Tonight Show", "Saturday Night Live" and many others. He also traveled with him to vocal coach him for much of his 2014 "Dear Girl" European tour.


RAab currently vocal coaches Rihanna, preparing her for concerts and television performances including "The Grammys", "American Idol", "Billboard Awards", "iTunes Wireless Festival", "MTV Movie Awards" with Eminem, "Monster World Tour" including arranging background vocals for the tour. He coached her throughout her 2011 "Loud" world tour, as well as her 2013 "Diamonds" world tour and 2013 "777" world tour and 2014 "Concert for Valor" military base performance and 2015 DirecTV Pre-SuperBowl concert.

RAab vocal coaches Kelly Clarkson, and prepared her and her background singers for the 2013 Honda Civic Tour with Maroon 5, where he also arranged background vocals for Kelly's show and is also preparing her and her background singers for the upcoming 2015 tour featuring Pentatonix, as well as arranging backgrounds. He arranged background vocals and performed as a background vocalist on several television appearances with Kelly Clarkson in December, 2013, including "Kelly Clarkson's Cautionary Christmas Tale", "The Today Show", "Late Night with Jimmy Fallon" "The Voice" "The Ellen DeGeneres Show" and many others, promoting Kelly's Christmas album "Wrapped In Red".

RAab arranged the background vocals, vocal coached and sang backgrounds with Kelly Clarkson, as well as guest performers Meghan Trainor, Charles Esten and Martina McBride for her "Miracle on Broadway" charity benefit concert in December 2014. He also coached her before her 2015 performance at the "iHeart Radio Music Awards".

RAab also coached Meghan Trainor before her performance at the 2015 "iHeart Radio Music Awards".

He worked with Madonna for her 2015 "Grammy performance" by putting the choir together and teaching and arranging parts and vocal coaching for the choir and background singers for her performance of "Living for Love".

RAab is currently vocal coaching Jussie Smollett of the hit TV show "Empire", including preparing him for 2015 television performances on "The Ellen Degeneres Show", "American Idol" and a performance at the Season One Finale Screening for Emmy voters at the "Ace Hotel" Los Angeles.

He is the vocal coach for Dave Matthews and traveled with The Dave Matthews Band for much of their 2014 North American tour. He coached Dave Matthews for 2015 dates in Mexico City including festival "Vive Latino" and is coaching and traveling with him for his upcoming 2015 North American and European tour.

RAab vocal coaches supermodel and singer Cara Delevigne, preparing her for upcoming performances.

He has worked behind the scenes in 2015 for the upcoming motion picture "Dirty Grandpa", helping to prepare Robert DeNiro for a musical scene in the movie and vocal coaching Zac Efron, Julianne Hough and Zoe Deustch, preparing them for their singing parts in the movie.

RAab has coached Ryan Tedder of "One Republic", preparing him for his duet performance with Pharrell Williams on the Grammys 2015 "Tribute to Stevie Wonder" television special.

He vocal coached new artist Vic Mensa, to prepare him to perform alongside Kanye West and Sia for the 2015 "Saturday Night Live 40th Anniversary" television episode.

RAab is also currently vocal coaching Kelly Rowland of "Destiny's Child" and 2013 USA "X Factor" judge, preparing her for concerts and television performances.

He is currently coaching pop star Austin Mahone, preparing him for concerts and television performances.

RAab has also vocal coached singer/songwriter Ne-Yo, country singer Martina McBride, The Zac Brown Band, Wesley and Stelth of the band "The Lumineers", "Icona Pop" and many others.

He works with many other talented singers and groups. He also produces and writes/collaborates to create new music with many artists.

RAab has made several television appearances, both as a vocalist and as a vocal coach. He appeared as a vocal coach on TLC's "The Singing Office" alongside "Spice Girl" Mel B and Joey Fatone of "N Sync". He also appeared as a vocal coach on the Australian television show "Six beers of separation".

He worked on season 1 of NBC's television show "The Voice", working behind the scenes as a vocal coach for many of the contestants.

RAab also worked behind the scenes of the UK version of "X Factor" in 2011, helping judge Kelly Rowland to coach and mentor her contestants on the show.

In 2010, RAab partnered with vocal coach Mindy Pack, to create "Voice Tutor", a vocal coaching app for the iPhone, iPad and iPod Touch.

He enjoys sharing his experiences and knowledge of the music industry and has put this into an interactive workshop that he has taken all over the USA, as well as around the world to countries such as Australia, Canada and Israel.

RAab loves to work with not only major artists, but with many up and coming artists and enjoys helping them to develop their talent and seeing them grow.